Stephen Shore, N6105U
I am the proud owner of N6105U, a 1995 Commander 114B that I purchased in June 2018 with 1874 TTH on the airframe and engine from Commander Owner Group member Mathen George out of Long Island, NY. In the time I have had the airplane, I have updated the panel and have done some work on the engine to make it a very updated and reliable airplane. The airplane currently has 1976 TTH on the airframe and engine and is running great.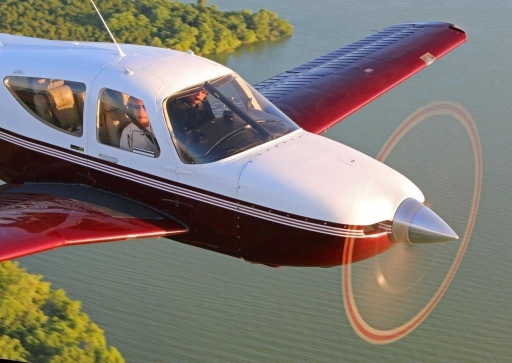 My flying history has a huge gap in it. Back in 1980 when I was 17 years old, I was watching an episode of "The Andy Griffin" show on TV. In that episode, Aunt Bea took a flying lesson and ended up soloing. When the show ended, I immediately got in my car and drove to the local airport (Longview Gregg County KGGG) and drove up to a "Cessna Pilot Center" and walked in and asked to take a flying lesson. After I was asked a few questions designed to determine if I would be able to pay for my lessons, I went up in a Cessna 152 and quickly figured out that I liked it and wanted more. On June 21, 1981, I did my check ride and received my PPL after 45 hours of work towards it. I was 18 years old.
In the next few years I went off to college and flew whenever I could, mostly 172's at that point. I graduated from college and got married to my college sweetheart (Teresa) and we moved off to Pennsylvania and I began my career and our family. Suddenly, there was no money for flying and I quickly fell out of currency. In the subsequent years, I sometimes forgot I was even a pilot.
Fast forward 35 years later….
I am 55 years old, the four kids are out of the house (two are in college with the other two graduated from college and starting their own careers). I am in the oil and gas business in Texas. Teresa and I live in East Texas (Longview) and I have frequent trips to Midland (7 ½ hours by car), Houston (4 ½ hours) and Dallas (2 hours). It all of a sudden occurs to me that I am a pilot and I could fly these trips to Midland, Houston, and even Dallas if only I had an airplane.
I sent my $2 to the FAA and got a new plastic license, passed the 3rd class medical, and found a great CFI (Robert Garza) to get me current again. I took a few weeks of lessons and found out that piloting an airplane was like riding a bicycle – it came back very quickly. I bought a Beech Sundowner to continue my training and got my IFR rating with the Sundowner.
I decided to upgrade my airplane in the spring of last year. My requirements were:
<![if !supportLists]> · <![endif]>Low wing
<![if !supportLists]> · <![endif]>Pilot's side door
<![if !supportLists]> · <![endif]>Lycoming IO-540 Naturally aspirated powerplant
During my research, it quickly became apparent that the only aircraft that would meet the above requirements was a Commander 114. I further drilled down to a 1992+ year model 114B as the model of choice. That really made for a narrow list, but that is what my mission called for.
After quite a bit of searching, I found N6105U owned by Mathen George up in Long Island. With the help of Judi Anderson, I was able to determine that this airplane was the one to buy. Mathen and I made the deal and I flew up to Long Island to pick the airplane up and fly it back down to Texas with my CFI Robert Garza. By the time I arrived home, I knew that this airplane was perfect for me.
Since last June, I have:
<![if !supportLists]> · <![endif]>Updated panel with Garmin GTN750, Flightstream 510, GTX345 transponder, GMA350C audio panel, GNC255 NAV COM, Aspen 1000 Pro (soon to be upgraded to MAX)
<![if !supportLists]> · <![endif]>Updated engine with ElectroAire 4100 Electronic Ignition
<![if !supportLists]> · <![endif]>GAMI injectors
<![if !supportLists]> · <![endif]>Insight G2 Graphic Engine Monitor
<![if !supportLists]> · <![endif]>LED landing lights
My project in 2020 will most likely be to overhaul the engine, since I will be well over TBO by then. So far, however, the engine is running great with all compressions 72+ psi. It burns a quart of oil every 4 hours. I change the oil every 25 hours and send in a sample for lab analysis every change.
This airplane has been a perfect fit for me. Teresa and I enjoy flying it to visit our kids and family. I fly it a lot for business and it allows me to get more work done every week.
In addition to Mathen George and Judi Anderson, I would have to thank fellow Commander Owners Group members Carl Lee, Pat Murphy, Greg Walker, and Jim Richards for helping me out as I got this airplane sorted out over the past few months. The COG is a great group and I cannot thank the membership enough for helping me get this airplane to the great condition it is in now.
Teresa and I are looking forward to meeting up with as many members as possible in September in Fredericksburg.